RailMeets For Skippers
Railmeets is free and ad-free for Skippers too! Organizing your race schedule and crew with ease. Set up one-off events like crew parties or boat work days or select events from the pre-filled event calendar of your fleet or club.
Manage crew and weight limits for each event. Message your crew securely and safely via our messaging system. Contact crew for last-minute messages and find out who is bringing the beer, or last minute guests. Store your boat's rating or one design certificates and share with participating clubs.*
RailMeets is mobile and desktop friendly - use it on the go or from home. Did we already mention RailMeets is free?

* Only clubs with a subscription can view the certificates. Contact us for details.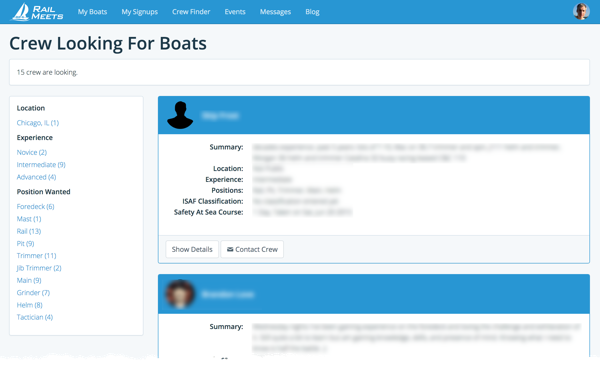 Crew Finder
Use the Crew Finder to find the right crew for you. We sort the crew to match your needs. Filter the crew list by location, skills, experience and special marquee events.
Once you find a prospective crew member, invite them to join your team!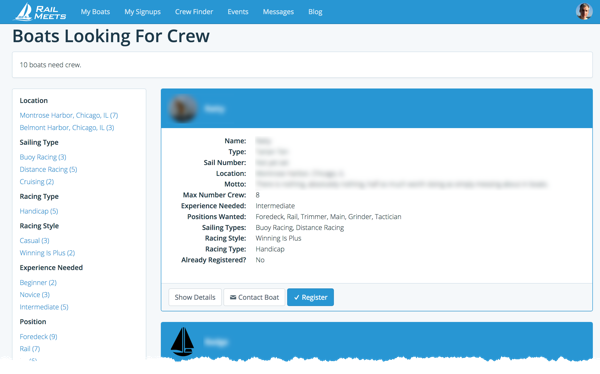 Boat Finder
Enable our Boat Finder to allow crew to find you. Set your team motto, desired experience and certification requirements. Then let your new crew find you!
Grow your team, meet new friends and develop new contacts.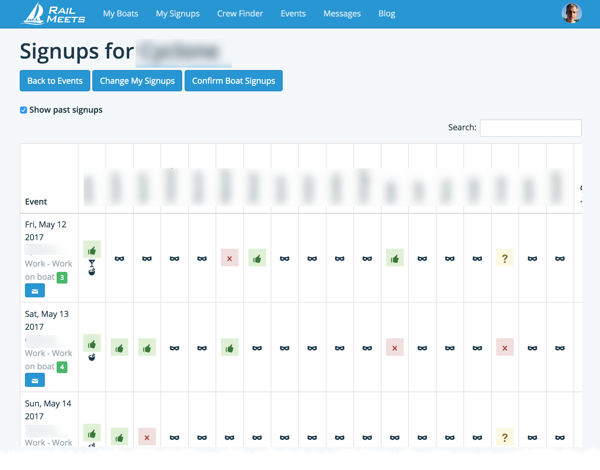 Signups
Review your entire schedule and easily identify events with too much or too little crew. One design racers can view total crew weight or number of crew per event.
Confirm or place crew on standby for the entire season or one event at a time. You can also designate a crew boss to do the work for you.
The crew list is sorted based on participation making it easy to see your aces.
Registration and Crew Management
Registration and Crew Management
Register your boats in seconds. You can select from your club or fleet's events and/or create your own. Create your crew roles (managers vs crew).
Accept or deny new crew requests from our Boat Finder feature, if enabled.
If you manage or crew on multiple boats, set your availability for each, in one place with one login.
Profile Settings / Privacy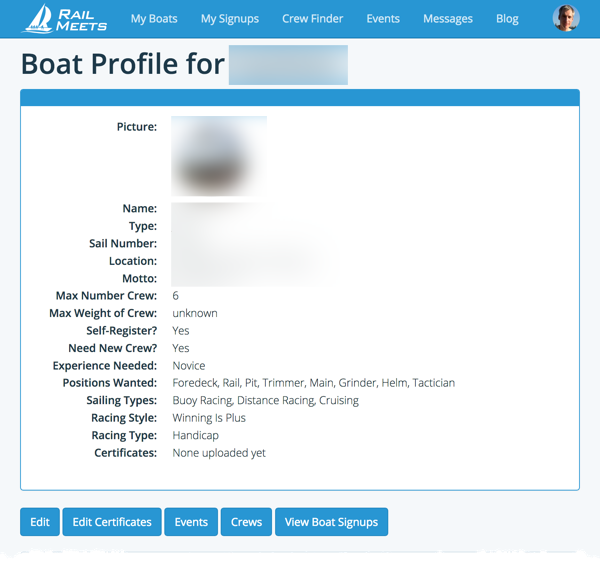 Profile Settings / Privacy
Control who can see your boat's profile and contact information.
Set up a profile, picture, boat type and sail number.
You an even upload rating or one design certificates and share with participating clubs.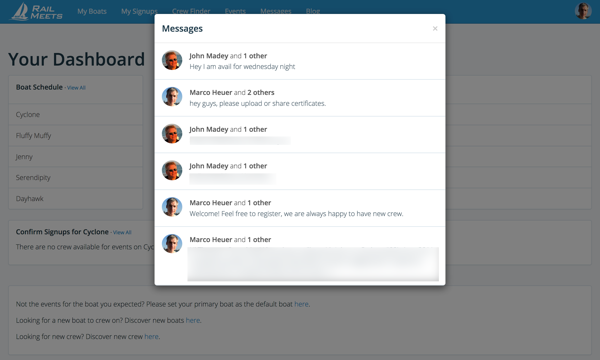 Messaging
Easily contact crew members, your entire team, or just those signed up for today's race. Double blind messaging is used to protect your privacy.
Respond to a message within the system or from your email client.
Customize your email notifications from your communication settings.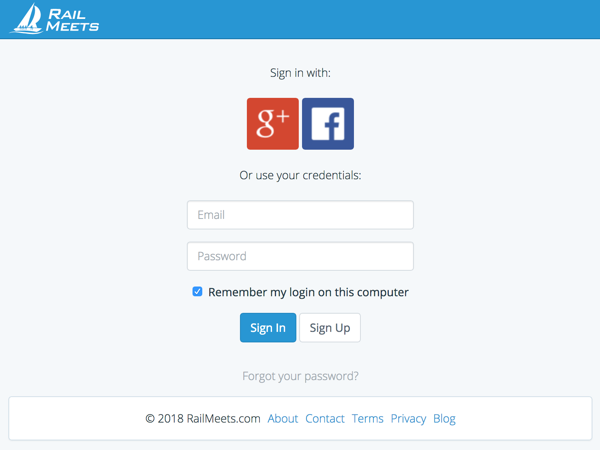 Registration
Register with your email address and a password. But, there is no need to remember yet another password if you register with Google+ or Facebook Connect.
Passwords created on our site are encrypted with industry strength cryptography.
Reset your password with our easy reset function.